10 Natural Herbal Remedies for Age Spots
Natural Herbal Remedies of Age Spots
What are Age Spots?
Age Spots also recognized as liver spots or liver spots are flat, harmless, brownish skin discolorations found on the skin which are usually found on the neck, face, and back of the hands of persons over the age of 40. These dark spots can be considered as areas of hyper pigmentation where surplus melanin forms and are not possible to go away overnight. In fact, it takes years for them to grow. They are annoying as often they disclose your age or make you older than your years. Try Natural Remedies of Age Spots to get rid of age spots completely and without any side effects.
You should go for lighter and non-comedogenic cosmetics items. Factors like incorrect diet, alcohol consumption, internal health problems, allergic reactions stress, overexposure to environmental irritants, absence of a proper skincare routine, and genetic heredity also lead to black spots and blemishes. There also exist numerous home remedies, which can be used safely and easily for removing age spots on the face. Find treatments and Natural Remedies of Age Spots and sunspots, using natural remedies and cures.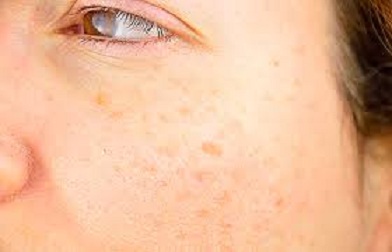 Causes of Age Spots
Live spots can be caused by dissimilar factors but the most common belief to be the Causes of Age Spots is the sun. For this reason, people called these spots sunspots. Sunspots happen when you stayed longer in the sun or not preventing yourself from the UV rays of the sun without minding your age. The sun causes an irregular rise in the melanin content of the skin which results in skin discoloration.
The coloring may be due to aging exposure to the sun or further sources of ultraviolet light or Causes of Age Spots that are not known.
Liver spots are very common after age 40. They happen most often in areas that have had the greatest sun exposure, for example, the:
Backs of the hands
Face
Forearms
Forehead
Shoulders
Symptoms of Age Spots
Age spots may affect people of all skin types, but they are more common in people with light skin. Symptoms of Age Spots:
Are flat oval areas of increased pigmentation
Are generally tan brown or black
Occur on skin that has had the most sun exposure over the years for example the backs of hands, tops of feet, face, shoulders, and upper back
Age spots range from spot size to about a 1/2 inch 13 millimeters across and can group together, making them more noticeable.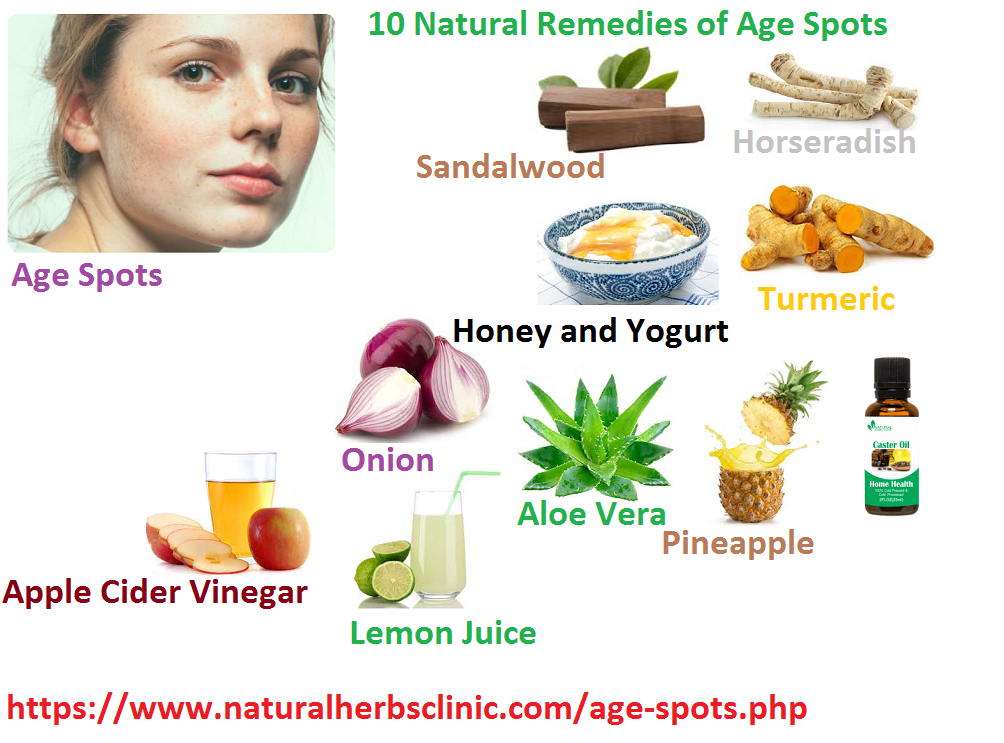 Natural Remedies of Age Spots
There are numerous people thinking exactly the same. And even if one product works for one individual it does not mean that it would work for everyone. People are different and that's why the products should be different too.
But it is far too expensive to manufacture the products for each and every person separately. But if you try all Natural Treatment for Age Spots to get rid of age spots at home, you can adjust the works slightly to get the remedies to work on your skin.
Natural and herbal products are strong and effective if used properly. Even most synthesized items have natural extracts as their base product and build on them with artificial enhancers and stabilizers. Following are some Herbal Remedies for Age Spots that help with the problem:
Honey and Yogurt
Both honey and yogurt are natural skin bleach. A combination of a teaspoon of honey and a teaspoon of natural yogurt is an effective method to cure age spots. Rub the combination onto the affected areas, let it dry for 30 minutes and then wash it off. Do this one time a day and soon you will notice your age spots begin to lighten.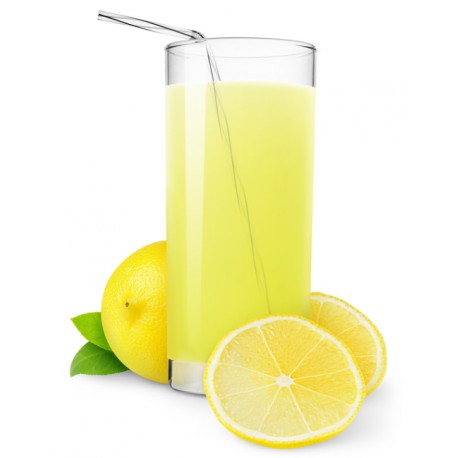 Lemon Juice
Lemon juice contains acid that can aid fade the appearance of age spots. By simply apply fresh lemon juice onto the skin with darker spots two times a day you will be able to see the results in about two months. Though it is vital to note that lemon juice increases the sensitivity of your skin to sunlight. Letting the juice on the skin overnight can be a good option.
Aloe Vera
It has been long recognized that aloe vera is very good for the skin particularly on healing skin burns. Numerous people have noticed its healing effect also on age spots. As an Herbal Treatment for Age Spots aloe vera is worth trying. It's easy to get fairly inexpensive and at least it keeps your skin healthier even if it didn't remove the age spots. Apply the aloe vera product on the affected areas two times a day and leave it on the skin for at least 45 minutes. The age spots are said to start fading out in less than a month.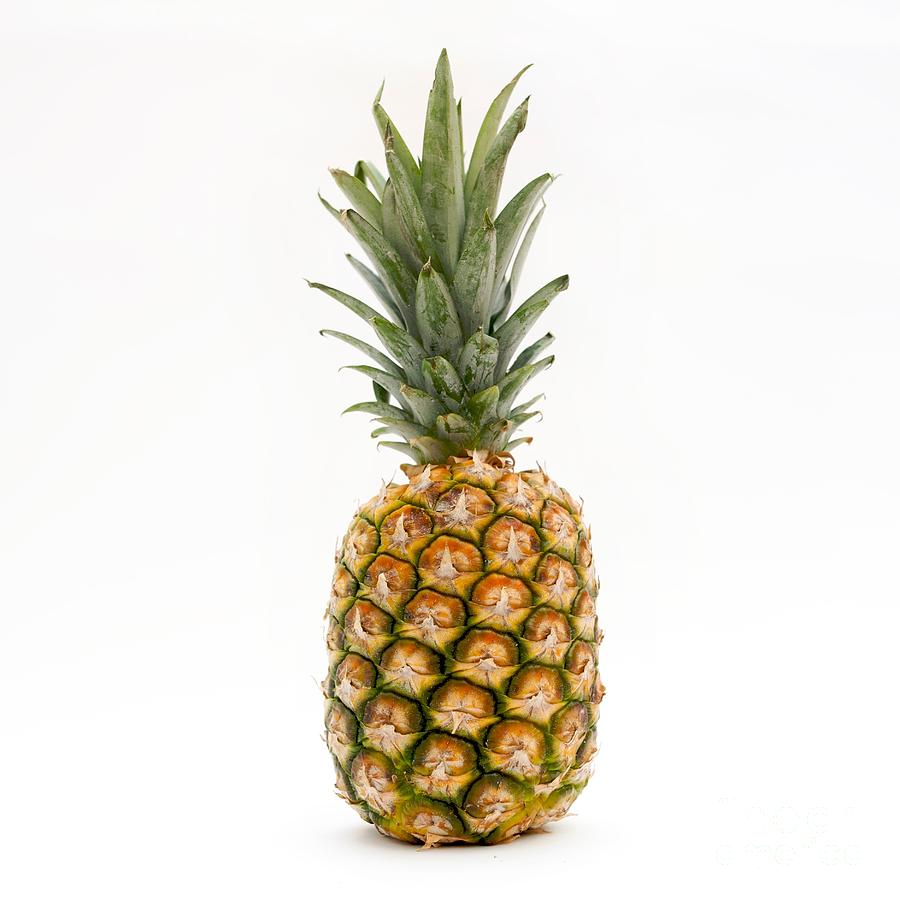 Pineapple
Pineapple is just similar to lemon in that it's rich in alpha-hydroxy acids that dissolve dead skin revealing the fresh clear skin underneath. Apply pineapple juice or puree on your age spots for 10 minutes then wash off with cold water.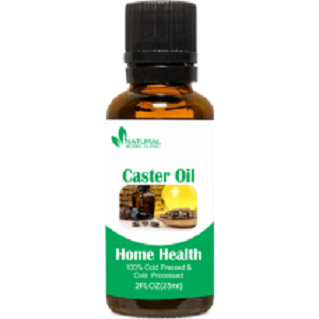 Castor Oil
It has been recognized that Castor Oil can better the appearance of age spots. To get the benefit of this natural oil simply rub it directly onto the affected skin areas every morning and evening. Within a month you should see the spots become faded. Castor Oil is one of the useful Herbal Products for Age Spots without and danger.
Horseradish
The use of horseradish helps clear age spots. Mix some horseradish in a bowl of milk for 20 to 30 minutes and then apply the mixture to the spots. Because of its richness in antioxidants and further unstable compounds, the appearance of the spots will fade away quickly.
Turmeric
Turmeric is a good skin whitener but you have to utilize turmeric powder with milk to make a paste strong enough to remove any Age spots you have or you can as well make a paste by mixing turmeric with curry leaves or sandalwood.
Apple Cider Vinegar
Apple cider vinegar is used for a number of skin complications including reducing the appearance of age spots. Apple cider vinegar is also one of the best Natural Remedies for Age Spots. Combine the same amounts of ACV and water. Apply to age spots and leave for 3 to 5 minutes. Next, wash the area with warm water.
Onion
That potent smell can do more than just flavor a meal. Onions are full of sulfur an antiseptic and vitamin C that acts as a natural skin lightener. Try not to tear up but rub a piece of onion to your skin to start reducing the appearance of age spots.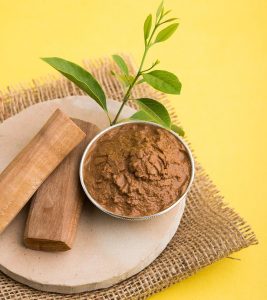 Sandalwood
This anti-aging agent is an antiseptic that can be lessening hyper-pigmentation. Simply rub a few drops of sandalwood oil mixed in one tablespoon of olive oil or almond oil each night before going to bed and leave on overnight.
Get rid of those irritating and embarrassing age spots and sunspots with these effective Home Remedies for Age Spots. With the help of these Herbal Supplements for Age Spots removers, you can remove your age spots on your face and hands effectively without any side effects.
Related Article
Natural Remedies to Get Rid of Age Spots on Face