Home Remedies for Granuloma Annulare Tips to Get Rid of Skin Disease
Helpful Home Remedies for Granuloma Annulare are very suitable option to fight against the symptoms and causes of the disease and provide relief from the disease.
What is Granuloma Annulare?
Granuloma annulare is a ring-shaped skin disorder characterized by elevated reddish or skin-colored pimples (lesions). The pimples are most commonly found on the feet and hands.
A few medicines, as well as minor skin traumas, may cause the syndrome. Different categories have an impact on adults and children.
The lesions normally go away on their own after two years if they aren't treated. If you're troubled by the way your skin looks or feels, your doctor can prescribe drugs to help you get rid of the problem faster.
Symptoms
The following are some of the indications and symptoms of granuloma annulare, depending on the type:
Localized
Granuloma annulare is the most frequent type of granuloma. With a diameter of up to 2 inches, the bump (lesion) borders are round or semicircular (5 centimeters). Young people' hands, feet, wrists, and ankles are most commonly affected by reddish or skin-colored pimples.
Generalized
Adults are less likely to get this type of rash, which causes itchy, reddish, or skin-colored pimples all over the body, including the trunk, arms, and legs.
Causes
The causes of granuloma annulare is unknown. It's sometimes brought on by:
Bites from animals or insects
Hepatitis, for example, is an infection.
Skin tests for tuberculosis
Vaccinations
exposure to the sun
Minor skin abrasions
Drugs
Risk Factors
Granuloma annulare can be linked to diabetes or thyroid illness, especially if the lesions are many or extensive. It's possible that it's linked to cancer, especially in older persons with severe granuloma annulare that doesn't respond to treatment or reappears after cancer treatment.
In certain circumstances, the illness may go away on its own. However, therapy is preferred to speed its eradication due to its unsightly appearance. The majority of patients with this disease recover on their own and do not require therapy. If the problem is severe, the doctor may give corticosteroid lotions, ointments, or injections. In most cases of granuloma annulare, there is no need for therapy because the patches dissolve away in a few months and leave no trace.
They can, however, go on for a long time. Treatment is not always successful. If you'd rather treat your granuloma annulare at home rather than going to the doctor, granuloma annulare, like eczema, responds well to a range of natural remedies. Some Natural Remedies for Granuloma Annulare are listed below.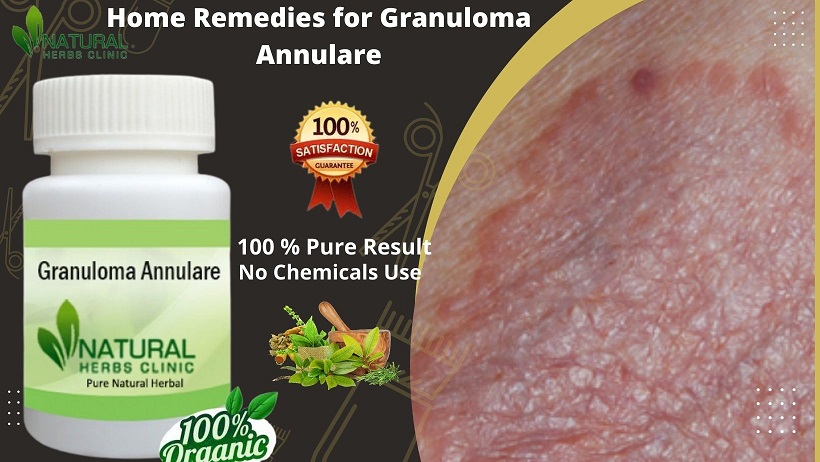 Home Remedies for Granuloma Annulare
Green Tea
This is one of the most effective Home Remedies for Granuloma Annulare that you may use as a natural remedy on a regular basis. This natural remedy is high in antioxidants, such as flavonoids called catechins [1]. Green tea should be drank on a daily basis to help with granuloma annulare treatment. Another way to use green tea is to use green tea bags to apply it straight to your skin. This tea's anti-inflammatory and antioxidant properties may aid in the healing process.
Turmeric
This Natural Treatment for Granuloma Annulare has a lot of anti-inflammatory properties. The major component, curcumin, is one of the most potent antioxidants and detoxifying chemicals ever discovered. It can help with granuloma annulare irritation and redness, as well as prevent bacterial infections. Turmeric powder can be used to flavor hot drinks. It can also be used as a spice in your cooking.
Extracts of Herbs
Rashes and skin abrasions can be helped by a variety of herbs that have antibacterial and anti-inflammatory properties. Ginger and turmeric have long been known for their health benefits, and they can be combined to form a paste that can be used to Treat Granuloma Annulare Naturally [2,3]. Massage it into your rash and lesions twice a day for the next four weeks. Take four teaspoons of your favorite powdered herb. With four teaspoons of olive oil, it should be kept in a dry, cool place. For the next month, massage it into your rash and lesions two  times a day. Turmeric is well known for turning people's skin orange, but it's also an anti-inflammatory that can help with Granuloma Annulare Natural Treatment. You can start incorporating more of these herbs into your diet as well.
Tea Tree Essential Oil
This essential oil is one of the most beneficial for Herbal Supplement for Granuloma Annulare. It has anti-inflammatory and antibacterial properties, which help to explain why it's so popular as a home remedy [4]. Before applying this home treatment to the skin, dilute it with a carrier oil like coconut or olive oil. This diluted home therapy should be applied to the affected areas twice a day, once in the morning and once in the evening.
Margosa Oil
Apply margosa oil to the affected area if you have granuloma annulare. This Granuloma Annulare Home Treatment should be done at least once a week. A paste can also be made with water, turmeric powder, gotu kola, and margosa leaves. This paste can be used to relieve granuloma annulare by applying it to the affected area on a daily basis.
Ginger
The symptoms of granuloma annulare have been proven to be relieved by ginger extract. The affected area should be treated with a mixture of salt, olive oil, ginger, and lemon juice. Ginger, which has antibacterial, antiseptic, and anti-inflammatory properties, can also be consumed [5]. To add flavor to your dishes, ginger should be eaten raw. Ginger powder can also be used in marinades and rubs, as well as in recipes. You can also add ginger to your milk or prepare a ginger tea.