Natural Herbal Remedies for Osteomyelitis Back Pain
In ostemyelitis a person's bone gets infected due to an attack by staph bacteria or fungi. The attacking bacteria reach the victim's bone by passing during the blood flow and finally attaching itself onto the bone and infecting it. People who have had minor or severe fractures of their body parts or people who have immuno suppressing diseases for instance HIV and Diabetes are quite to acquire an osteomyelitis infection of the bone. Try Herbal Remedies for Osteomyelitis for proper recovery of this disease.
Some of the likely symptoms that one may experience due an osteomyelitis infection of the bone are severe pain in the bone which is infected, feeling of being tired and weak, and some soreness around the area. These symptoms might indicate that the individual has an osteomyelitis infection.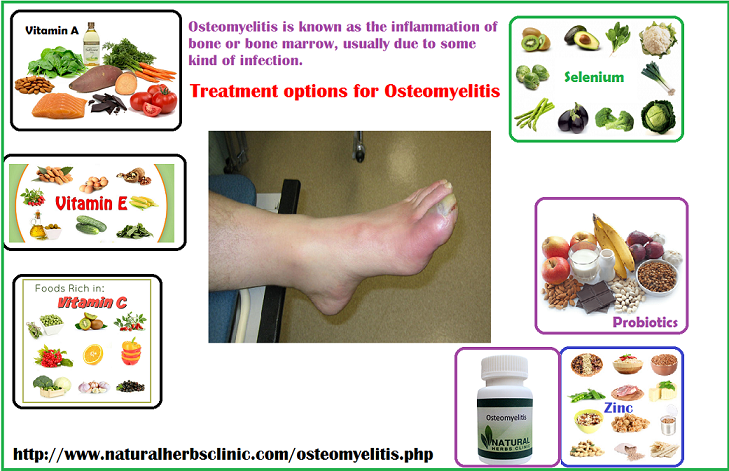 The medical doctor generally starts antibiotic treatment for acute osteomyelitis even before the diagnosis is confirmed, and may prescribe large doses of intravenous penicillin, such as Nafcil or Bactocill.
If an abscess forms, Treatment Osteomyelitis includes incision and drainage, culture of the drainage, and antibiotics. The drugs may be given orally, washed over the infected bone with a blood drainage system, or applied with antibiotic-soaked dressings.
Chronic osteomyelitis generally requires surgery to remove dead bone and to promote drainage. Even after surgery, the prognosis is poor, leaving the individual in great pain or maybe even needing amputation. Various doctors use hyperbaric oxygen to help the blood fight the infection and plastic surgery to repair damaged areas and increase blood supply.
The aim of treatment is to reduce the pain and wholly treat the infection. Treatment may include one, or a combination, of the Antibiotics to fight the infection, Pain medications, Surgery to clean out the infected area in and around the bone.
There is one remarkable technique of national treatment of osteomyelitis:
Take 100 grams of honey and kindle it on a water bath. Thus water temperature has to be about 40 degrees. Add to honey 100 grams of rye flour and 100 grams of butter, and one yolk of house chicken. The yolk needs to be shaken up before adding to the common structure.
Knead dough, give to it the form of a thin flat cake, put it on the struck place, atop cover with polyethylene and bandage. Such method is carried out for the night. Repeat treatment it is required every night. After such Treatment for Osteomyelitis pus will begin to leave, but then everything will pass and wounds will be tightened.
You can also make warm baths, massage and stretching workout as often as probable. Reiki, meditation and visualization combined with aromatherapy are also useful Natural Remedies for Osteomyelitis that can help decrease anxiety and discomfort caused by inflammation of the joints.
Finally, it is important to believe that when heavy objects from one place to another are forced joints move. To stop joint damage or prevent damage, it is suggested to use tools to help the relocation, as carts. Should Carry the weight on your hands, distribute in both arms.
Get down to the pool: Water exercises are helpful for those with joint pain because they can get better muscle strength, joint flexibility and reduce pain.
Stay about 60 minutes with the body immersed in a heated pool dramatically recovers the condition of ostemyelitis patients.
Natural Herbal Treatment for Osteomyelitis
Osteomyelitis was one time thought to be not curable, but with surgery and strong antibiotics, treatment is possible. You may have to wear a cast or splint to let the infected bones and joints to heal extra efficiently. Natural Treatment for Osteomyelitis can help boost the immune system to help fight the infection.
Herbs are a way to strengthen and condition the body's systems. Likewise as with any treatment, it is necessary to work with your supplier to diagnose your problem before you start Herbal Treatment for Osteomyelitis. You may utilize herbs as dried concentrates, glycerites, or tinctures.
Garlic, Echinacea, Goldenseal, Astragalus, Barberry are aliments that are very famous and use in Herbal Remedies for Osteomyelitis and many other disease herbal treatment. These works properly in the recovery of Osteomyelitis without any side effects. Herbal Remedies for Osteomyelitis provided by Natural Herbs Clinic have successful result which have no any side effects.
Related Article
Utilize Natural Remedies to Get Rid of Osteomyelitis Bone Pain